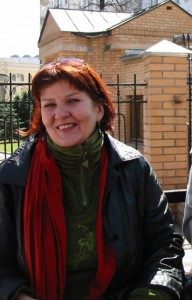 Ruth Wyneken M.A.
Born in Germany, Bavaria. Grew up in Essen, NRW, in a family with 6 children. Our father worked as a surgeon, mostly for coal miners.
Mother of three adult daughters.
01/1977 Master of Arts at the LMU University of Munich, in Slavic and Russian Studies and Philosophy; thesis on Chronotopos in Mikhail Bulgakov's THE MASTER AND MARGARITA. Since 1987 working as a freelance.
Drama teacher and dramaturgy adviser with profound knowledge of Russian Theatre-School-Method (Stanislavsky and following masters) with about 20 lecturships. Initiator and artistic director of several German-Russian theatre- and cultural projects in Germany, Switzerland and Russia and the symposium "Bridges to Russia" at the European Womens' Forum in Illereichen, Germany (2001). Author and editor of several books, short stories and more than 100 feature articles and publications on Russian culture and theatre in German-language newspapers and theatrical journals as well as for the radio. Translator of dramatic works and theatrical literature (Anatoly Vasilyev: "To the only Reader", Berlin 2003) and from Prof. Yurij Alschitz. Closely connected with the "School of Dramatic Arts (former director: Anatoly Vasilyev) in Moscow since 1987; extensive travel in the former Soviet Union (Baltic, Volga, Siberia) by invitation of the Russian Theater Association from 1988 until 1991.
Member of the German Writers Union (VS Berlin/Brandenburg) since 2001
Living from 1992 through 2008 with Green-Card in St. Petersburg, from 1999 in both, Germany and Russia
LECTURESHIPS / APPOINTMENTS:
– 2010 Russian Academy of Theatre Arts GITIS, Moscow (dep. of directing, workshop of Prof. Oleg Koudryashov)
– 2010 Free University Berlin (FU), Germany, Institut for Theatre-sciences
– 2009 Russian Academy of Theatre Arts GITIS
– 2009 Free University Berlin (FU)
– 2008/09 Russian Academy of Theatre Arts GITIS
– 2008 Free University Berlin (FU)
– 2008 Russian Academy of Theatre Arts GITIS
– 2007 Russian Academy of Theatre Arts GITIS
– 2007 Free University Berlin (FU)
– 2006 Russian Academy of Theatre Arts GITIS
– 2005 Free University Berlin (FU)
– 2004 Free University Berlin (FU)
– 2001- 2003 Academy of Performing Arts Ulm, Germany
– 1998/99 University of Hamburg (dep. theatre-studies/directing)
– 1999 St. Petersburg State Academy of Theatre Arts SPGATI, Russia
– 1996 Academy of Theatre Arts (SAZ) Zürich, Switzerland (Dostoyevskij)
The short-term appointments (about 2 months each) at the GITIS in Moscow have been supported by the GERMAN ACADEMIC EXCHANGE SERVICE (DAAD)
PROJECTS (Dramaturgy Advising, Direction and/or Co-Direction):
2015 WAR WITH THE EYES OF CHILDREN. FRAGMENTS (by Ruth Wyneken) German-Russian Theatre-Project; State Youth Theatre, Kazan/Tatarstan/ Russia
2015 ISLAND OF THE BLESSED. OFF-Production, Musical, Kulturparkcafé Berlin-Kladow
2008 WRITTEN IN THE FIRE. Literary-Musical Composition on work and life of the Russian Poet Marina Tsvetaeva
2007 HOME! by Ljudmila Rasoumovskaya; a German-Russian Youth-Theatre-Project; Berlin, Moscow (with Tatjana Tarasenko)
2006 THE BLUE BEARD –THE HOPE OF WOMEN by Dea Loher, Russian Academy of Theatre Arts, depart. of Directing, GITIS, Moscow. (Workshop of Prof. Oleg Koudryashov)
2003 CROW'S FEET by A. Naydyonov. Academy of Performing Arts (AdK) Ulm, Germany: German premiere
2002 TWELVE ANGRY MEN by R. Rose/ H. Budjuhn, at Freie Waldorfschule am Illerblick, Ulm
2000-2001 Artistic direction of several cultural projects and the symposium "BRIDGES TO RUSSIA" at the European Womens' Forum in Illereichen, Germany
1999 WHEN THE WAR WAS OVER by Max Frisch; St. Petersburg State Academy of Theatre Arts (class of Prof. Jurij Krassovsky)
1999 GIVE A WAY TO: PUSHKIN! A Russian-German play with actors and singers from Moscow. Off -Production in southern Germany and Switzerland.
1997 THE LEGEND OF TSAR PETER AND HIS MURDERED SON ALEXEY after a novel of F. Gorenstein Alexandrinsky Theater, St.Petersburg /RUS. (Dir. A. Galibin)
1996 THE RASKOLNIKOV CASE after F. Dostoyevsky, Theatre Academy of Zurich/CH; (Dir. A. Galibin)
1995 THE DISCONNECTED by Mikhail Ugarov, Liteiny Theater, St. Petersburg /RUS; (Dir. A. Galibin)
1994 THE HARP OF GREETING by M. Bogomolnyj, dito (Dir: A. Galibin)
1993 LA 5 IN THE AIR by A. Schipenko. Youth-theatre at Fontanka, St. Petersburg (Dir.: A. Galibin)
1992 THE GAMBLERS, adapted from Gogol's novel, Radio Play ORF Vorarlberg (with Dir. A. Galibin)
1991 MARINA TSVETAYEVA LIFE AND WORK: Southern Germany. Off Production, (with A. Galibin)

Lectures-Performances: in Berlin, Leipzig, Dresden, Munich, Stuttgart and others

Foreign Travel:
Jamaica, Central America, India, Thailand, France, United States, Canada;
starting since 1974 in the USSR (Russia and the Baltic countries); and others

Languages:
German: native
Russian: full mastery of written and spoken language
English: fluent
French: more or less fluent

Contact:
Cellphone:+49-177-597 91 04